"I have always argued that we can't live by or be made to exist outside of mythology, and that every group and nation has, possibly unacknowledged to themselves, some myths by which they live. It remains important to revisit them, understand them and possibly retell them—or at least own up to them—and then it becomes possible to move something." (Marina Warner)
This post is my contribution to #openblog19 which is a collective open blogging project amongst UK learning technology professionals. Amber Thomas was kind enough to tag me, and said she would like to hear about "institutionally provided technologies". I'm going to use this post to quickly capture something that I've been planning to write up as part of a larger piece, because I want to put a different spin on "institutionally provided technologies".
Actually, this all starts with Amber and her 2018 ALT-C Keynote in which she says "I question the popular narrative that all change is going to come from outside" when describing the collective endeavours of the sector on FutureLearn. Picking up on this same theme in his 2019 inaugural(!) lecture Martin Weller says "The story we tell the world about ourselves isn't a luxury" when reflecting on 15 years of digital innovation in edtech at the OU.
In all our conversations about disruption, innovation and change, I increasingly think we've been sold a lie. In this post I want to highlight 3 examples of "institutionally provided technologies" that right now are shared services for the sector, by the sector. We don't need to wait to be handed all our edtech on a plate, or to spend time fruitlessly canvassing vendors for desired features. In a landscape of mixed economy and capacity collective action and collaboration can be an option too.
Noteable

In my own institution over the last year my colleague James Slack and I have been working with colleagues in Edina to pilot Noteable, a computational notebooks service based on JupyterHub. Edina are an outward facing arm of the University who develop and supply online services to the education sector (you may have heard of DigiMap for example).
We've worked with the tech team in Edina to develop LTI integration and plugged it into our core VLE (Blackboard Learn). We've worked with colleagues in our School of Informatics to learn from their experiences and implemented nbgrader (and in doing so discovered a bug which we will fix and share back to the community). James has helped to build the internal "ProgTeach" community and has secured funding from Jupyter.org to run a community workshop in Edinburgh in May to develop further improvements to nbgrader, as well as run sessions to introduce new communities of users to JupyterHub (including local schools).
Noteable is built, run and operated by the University of Edinburgh. It's used by us for our own teaching and it's development is informed by real on the ground academic and student needs that are probably a lot like yours. You can use Noteable too for a modest fee. My Edina colleagues would be delighted to speak to you.
ESUP-Portail

In February I travelled to Paris to attend the ESUP-Portail consortium bi-annual conference in my capacity as a member of the Apereo Board of Directors. For those of you who can't read their website ESUP-Portail are a consortium of 70 French HE institutions who collaborate on IT projects. They receive funding directly from the French Ministry, which they use to develop open source solutions to fit the needs of French HE:
"plus la mutualisation entre universités s'opère à grande échelle et plus elles partagent les évolutions technologiques…et les coûts."
Roughly speaking this translates to "more sharing between Universities at large scale means more sharing of technical evolution…and costs". The infographic below shows that from 5 founding institutions they have grown to 70 members and are used by about 80% of the HE sector user community.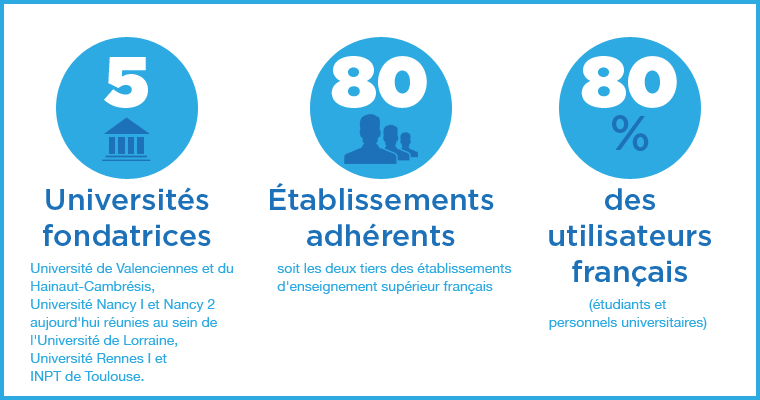 At the ESUP-Portail conference I heard a presentation about a model for setting up shared services between institutions based on ITIL best practice and expertise in cloud service provision. They are now moving from collaborating on development of technologies that are implemented locally, to offering shared services to each other.
This is "Institutionally provided technologies" at scale.
B.C. OpenEdTech Coop
"The OpenETC pools expertise and resources to support shared infrastructure. We promote inter-institutional collaboration and provide shared open-source platforms enabling co-creation and sharing of open educational resources and approaches to open pedagogy."
A confederation of three institutions in British Columbia have taken advantage of keenly priced sector level server provision (EduCloud) to deliver a shared service to the province including a shared WordPress instance, the Mattermost collaboration tool, and Sandstorm apps (including Etherpad – just about one of my favourite super-simple collaboration tools).
The OpenETC is free to use for the sector, with the intention at this stage of the service that contributions can be made in kind, for example donating some time and effort to develop documentation or orientation videos. For institutions who are wholly reliant on outsourced IT, or where resources are scarce, the ability to use something like WordPress can be prohibitive. Privacy laws in BC are also strict, so "free to use" services like WordPress.com wouldn't be FIPPA compliant without obtaining specific consent in accordance with BC privacy law* (and in any case, they're not really free, as we all know). The OpenETC is a grassroots initiative that aims to offer a service where none might otherwise exist. As well as providing a shared service, they are generous with their expertise – I have certainly used ideas from their WordPress setup to inform the service we recently built at Edinburgh.
These are three examples from three different countries and each is built upon a slightly different model. That diversity heartens me. Here are three different ways in which we can think about "institutionally provided technologies".
I'd be very interested in hearing about others. Please do comment.
---
* Many thanks to Julia Henglster for clarifying my imperfect understanding of FIPPA
A point of correction re. #privacy law & use of online tools in public #BCEd : any tool can be used under #FIPPA —even if it collects personal information & stores it/makes it accessible external to Canada—if consent obtained in manner prescribed by law & @BCInfoPrivacy

— Julia Hengstler (@jhengstler) March 27, 2019
("The Emperor's New Clothes" from Gutenberg.org: Stories from Hans Andersen, with illustrations by Edmund Dulac, London, Hodder & Stoughton, Ltd., 1911. Public Domain in the US.)